Always the One by C.C. Monroe: Release Day Blitz


Katy Evans Book Announcement

Furious Rush by S.C. Stephens: Review
Title: Always the One
Author: C.C Monroe
Release Date: August 25
Join the Release Day Takeover:
Join Here
Buy Links: 
Synopsis
Friendships are defined as a bond between two people, a building of a strong connection and like for one another. Usually excluding romantic or sexual feelings. Now what occurs when the typical doesn't happen and friendship turns to love?
Trey Adams spends his days working with music and pining over his longtime best friend, Shayla Donovan. The only thing holding him back is his past, a past where love only hurts and leaves you. To love Shayla the way he desires may be a long, arduous road.
Shayla Donovan has lived thirteen years of her life with a secret she is ready to confess. Pushing her fear aside may be the only way she can move forward in helping Trey learn the meaning of true love.
On their journey to finding love, these two souls will fight battles bigger than they could ever imagine.
*This novel contains mature subject matter, such as explicit sexual situations and coarse language, please refrain from reading if these things offend you. This story is not suitable for anyone under the age of 18. Hot, sensitive, alpha male, with an HEA.
Tonight proved our love is stronger than anything—the feelings and emotions all real.
The only light in the room is the burning fireplace, crackling across the way from the bed. I watch the orange and yellow flames mesh, regaining my bearings. Shay's warmth on top of my chest is welcoming, helping me relax. I notice she's been silent for a few minutes, and when I look down I'm met by her sleeping form.
Everything that has happened in the past twenty-four hours wore my girl out. But I'm more than happy just sitting here listening to her light breathing as she sleeps. She looks beautiful, like nothing in this world could disturb her. I want this moment to last forever. I want my time with her to last far past the time we are given here on earth. I don't know if I believe in eternity, but she sure makes me hopeful that there will be one. She makes me feel like the day I was born only half of me entered the world while the other half of me waited with her and the day we met was the day I became complete again.
Lightly, I move the backside of my fingers down her cheek, and when my thumb makes it to her lips I graze the round edges. Remembering the way she kissed me back when I took away her virginity. Looking at her now, I feel a sense of completion. I'm not only falling, but in essence, also surrendering my heart, soul, and body for the chance to love someone.
This is the moment that changes a boy into a man. The moment one falls in love. Not only am I responsible for loving this woman, but I'm also now in charge of protecting her heart and honoring any promise I give her from here on out.
For women, virginity is the one thing that they give to someone that they've fallen in love with. Well, most women. The one thing they give away as a symbol of their love and commitment to their partner. But what virginity is to women, is what a heart is to a man. We save that shit with us until the right woman comes along to claim it. That's when we then give it away, without a second thought or regret. Shayla took my heart, and I will never be able to get it back.
"Why are you looking at me like that?" Her voice is soft and laced in a sleepy rasp.
"You look beautiful when you sleep."
She searches my eyes, seeing if I'm lying or hiding anything from her. Letting her gaze falter for a second she moves on, accepting my answer. She stretches before placing her head back on her spot above my heart.
Teasers
About the Author
Ever since I was a young girl, I have loved the idea of love. Now that I'm older and have love in my life, I still love the concept of LOVE. More so, I believe in the power of love on paper. Writing the stories of the characters in my head.
RELEASE DAY TAKEOVER
Author CC Monroe is excited to share her debut novel, Always the One with the indie world on Thursday August 25th, from 12:30 AM – 10:30 PM in MDT
We will be having many giveaways and author takeovers from some amazing authors! 
Invite readers, bloggers, and authors!
Giveaway
(2) Signed Paperback & $25 Giftcard
~~~~~~~~~~~~~~~~~~~~~~~~~~~~~~~~~~~~~~~~~~~~~~~~~~~~~~~~~~~~~~~~~~~~~
Womanizer by Katy Evans
Series: Manwhore #5
Release Date: December 5th, 2016
Genre: Contemporary Romance
Synopsis:
You've seen the headlines: Womanizing billionaire player! Watch out! Stay away!
We were just two strangers. Facing a forbidden attraction, a chemical connection. Neither of us expected or wanted it to amount to more.
But I had never been drawn to a guy the way I was drawn to this one: my brother's best friend, and CEO of the company where I interned.
Even knowing I should stay away, I proved to be too human, after all.
The chemistry was amazing.
The laughs were incredible.
I opened up to him in more ways than I'd opened up to anyone before.
But sex was as far as I'd go.
Just sex because he was too irresistible.
Just sex because I wouldn't be falling for him.
Just sex because I'd leave in three months, and I'd like for my brother not to kill me, and for nobody to find out he was my wicked little secret.
He wasn't the One.
He was just a womanizer.
But for a time, he would be mine.
Preorder Today!
About the Author:
Katy Evans grew up with books and book-boyfriends until she found a real sexy boyfriend to love. They married and are now hard at work on their own happily ever after. Katy loves her family and friends, and she also loves reading, walking, baking, and being consumed by her characters until she reaches "The End." Which is, hopefully, only the beginning…
~~~~~~~~~~~~~~~~~~~~~~~~~~~~~~~~~~~~~~~~~~~~~~~~~~~~~~~~~~~~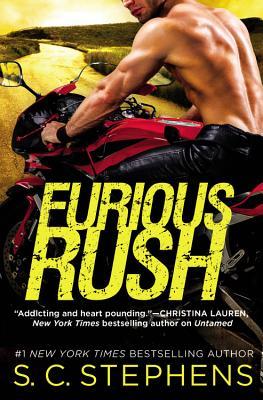 Book: Furious Rush
Author: S.C. Stephens
Publication Date: August 23, 2016
BLURB
Too fast, too furious-and way too hot to handle . . .
Mackenzie Cox has a lot to prove. Daughter of a racing legend, she is eager to show the world that she has inherited her father's talent in the male-dominated sport of professional motorcycle racing. The last thing Kenzie needs is to be antagonized by her rival team's newest rider, Hayden Hayes. Plucked from the world of illegal street racing, Hayden immediately gets under Kenzie's skin. His insinuations that Kenzie is a spoiled princess who was handed her career fuels her desire to win, and much to her surprise, Kenzie soon learns she performs better when she's racing against Hayden.
As Kenzie and Hayden push each other on the track, the electric energy between them off the track shifts into an intense–and strictly forbidden–attraction. The only rule between their two ultra-competitive teams is zero contact. Kenzie always does her best to play by the rules, but when her team slips into a financial crisis, she has no choice but to turn to Hayden for help. The tension simmers during their secret, late-night rendezvous, but Kenzie has too much to lose to give in to her desires. Especially when she begins to doubt that Hayden has completely left his street life behind…
REVIEW
Welcome to the world of racing, legal and illegal. Kenzie and Hayden are rivals in every sense of the word. With Kenzie's father in a life-long battle with his former partner and Hayden riding for that team, he should be completely off limits to her. As time goes on the two find themselves spending more and more time together. They push each other on and off the track. The sexual tension between these two is off the charts.
This book is full of twists and turns. No matter the questions that continue to arise about Hayden, you find yourself pulling for him. You will be immersed in the life of a rider, so hang on for the ride.
Four Stars for this beginning to a new series.
PURCHASE LINKS
Kindle: bit.ly/FuriousRushKindle
Paperback: bit.ly/FuriousRushPaperback
iBooks: bit.ly/FuriousRushiBooks
Kobo: bit.ly/FuriousRushKobo
Nook: bit.ly/FuriousRushNook
Google Play: bit.ly/FuriousRushGooglePlay