The Writer's Desire by Katie Devoe: Blog Tour & Giveaway

The Letter: Dear Michael by Theresa Sederholt: Blog Tour & Giveaway

Banking the Billionaire by Max Monroe: Release Blitz


Fatal Identity by Marie Force: Release Day
~~~~~~~~~~~~~~~~~~~~~~~~~
Save
 ~~~~~~~~~~~~~~~~~~~~~~~~~~~~~
 Book: Banking the Billionaire
Series: Billionaire Bad Boys
Author: Max Monroe
Publication Date: July 26, 2016
Blurb
Disclaimer:
The CDC has been notified of the infectious nature of Cassie's craziness, siting her first case of full transmission to Thatcher Kelly. Measures should be taken to counteract its fast regeneration cycle, but avoiding the book is not recommended at this time. The Epilogue is the only known antidote.
Review
This book has it all. It is sexy and funny. These two characters are so much fun to read!
This book is hot, funny and sweet all wrapped up in words. Thatch and Cassie are perfect for each other. As they prank their way through a relationship, they discover so much more than each of them knew about the other. I loved this book and this couple.
**ARC rec'd in exchange for an honest review.
Purchase Links
Find all purchase links here:
http://www.authormaxmonroe.com/#!books/cnec
✦TAPPING THE BILLIONAIRE SALE STARTS ON JULY 26TH✦
It will be 99 cents for a limited time.
This is a series of interconnected romantic comedy standalones and Tapping the Billionaire (the first in the series) is currently on sale for limited time for 99 pennies!!!
Tapping the Billionaire (#1)
Amazon US: http://amzn.to/1SIItun
Amazon UK: http://amzn.to/1SuIHjq
Amazon CA: http://amzn.to/1T9prYs
Amazon AU: http://bit.ly/1Qx801Y
Nook: http://goo.gl/84lRuS
iBooks: http://apple.co/1SNU6jL
Kobo: https://goo.gl/a2dY1m
~~~~~~~~~~~~~~~~~~~~~~~~~~~~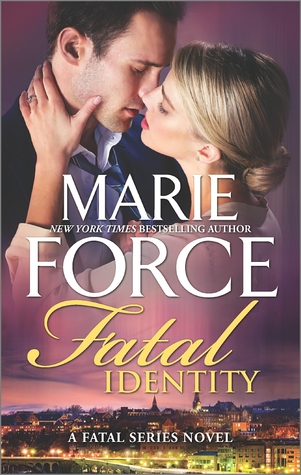 Book: Fatal Identity
Series: Fatal Series
Author: Marie Force
Publication Date: July 26, 2016
Blurb
Every family has its secrets… 
As the first anniversary of her marriage to Vice President Nick Cappuano approaches, Lieutenant Sam Holland is dreaming of Bora Bora—sun, sand and a desperately needed break from the DC grind. But real life has a way of intervening, and Sam soon finds herself taking on one of the most perplexing cases of her career.
Government worker Josh Hamilton begs Sam to investigate his shocking claim that his parents stole him from another family thirty years ago. More complicated still, his "father" is none other than the FBI director. When a member of Josh's family is brutally murdered, Sam begins to question how deep this cover-up goes. Is it possible the revered director was part of a baby-napping ring and that others involved are also targets?
With a killer intent on deadly revenge and her team still reeling from a devastating loss, Sam's plate is full—and when Nick and their son, Scotty, take ill, is her dream of a tropical anniversary celebration in peril too?
Review
I am a total Fatal Series fan! I am like a crazy person when I get my hands on each one of the books in this series. I devour each page and usually finish the book in record time. This one was no exception.
In this book, we get all of the intense intrigue with a story that rocks the characters we know and love. All the while Sam is trying to get to the bottom of the new case that she technically isn't working on, she is dealing with family issues. With Nick and Scotty both sick, we see a side of Sam that we all have known was there but she doesn't like to show us very often. She shows us her domestic side. Sam becomes the worried wife and mother taking care of her family.
We also get the sexy moments with Sam and Nick. Boy are those two one hot couple!
Five huge stars for this book! Another great job by Marie Force!
Purchase Links
Kindle US  |   iBooks  |  Nook  |  Kobo  |  Google  |  Kindle CA  |  Kindle UK  |  Kindle AU
Get Fatal Identity in print at Amazon, B&N, Books A Million, Chapters Indigo, Booktopia, Harlequin and Indie Bound
Audiobook
Amazon |  Audible  |  Audible UK  |   Audible AU
Save
Save