I have finally caught up with my review reading and have decided to take some time to finally catch up on some books by some of my favorite authors.  I have had these books since the day they were released but haven't had time to read them. Boy did I pick two good books to start with! Both are five star reads and if you haven't read them, add them to your TBR list!
The first one I picked to read was Alpha by Jasinda Wilder. I had seen great opinions of this book on Facebook so I was very excited to read it.  Needless to say, I wasn't disappointed! Not only was it one very hot read, it had twists and turns that were totally unexpected. Jasinda Wilder knocked it out of the park with this one! A five-star read with some shocking surprises!
I had also been anxiously wanting to read Rush Too Far so it was my second "catch up" read. I loved Rush Finlay in Fallen Too Far but love him even more now that I was able to get inside his head! It was so interesting to be in the head of Rush Finlay and see just how hard he tried to keep away from Blaire. It was also interesting to see just how deep his feelings were for her. I liked reading more about why Nan became the person she is but it didn't make me like her any more than I did before. I still think her character can be redeemed at some point but it is going to take one heck of a special person in her life to bring her around. Loved Rush! This is an awesome book!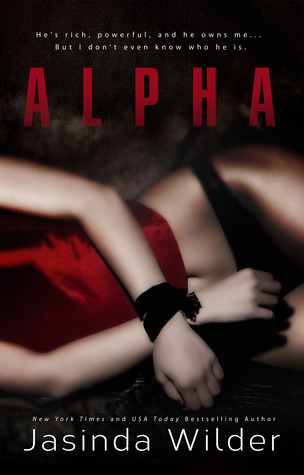 Book: Alpha
Author: Jasinda Wilder
Publication Date: April 29, 2014
The first time it happened, it seemed like an impossible miracle. Bills were piling up, adding up to more money than I could ever make. Mom's hospital bills. My baby brother's tuition. My tuition. Rent. Electricity. All of it on my shoulders. And I had just lost my job. There was no hope, no money in my account, no work to be found. And then, just when I thought all hope was lost, I found an envelope in the mail. No return address. My name on the front, my address. Inside was a check, made out to me, in the amount of ten thousand dollars. Enough to pay the bills and leave me some left over to live on until I found a job. Enough to let me focus on classes. There was no name on the check, just "VRI Inc.," and a post office box address for somewhere in the city. No hint of identity or reason for the check or anything. No mention of repayment, interest, nothing…except a single word, on the notes line: "You." Just those three letters.
If you receive a mysterious check, for enough money to erase all your worries, would you cash it?
I did.
The next month, I received another check, again from VRI Incorporated. It too contained a single word: "belong."
A third check, the next month. This time, two words. Four letters. "To me."
The checks kept coming. The notes stopped. Ten thousand dollars, every month. A girl gets used to that, real quick. It let me pay the bills without going into debt. Let me keep my baby brother in school and Mom's hospice care paid for. How do you turn down what seems like free money, when you're desperate? You don't. I didn't.
And then, after a year, there was a knock on my door. A sleek black limousine sat on the curb in front of my house. A driver stood in front of me, and he spoke six words: "It's time to pay your debt."
Would you have gotten in?
I did.
It turns out $120,000 doesn't come free.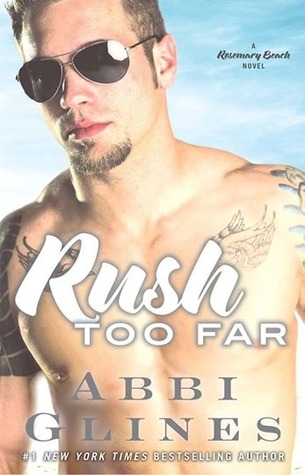 Book: Rush Too Far
Series: Rosemary Beach #1.1
Author: Abbi Glines
Publication Date: May 6, 2014
Fallen Too Far was Blaire's story. Now it's time for Rush to share his side.
Everyone in Rosemary Beach thinks they know how Rush Finlay and Blaire Wynn fell in love. But Rush is back to tell his side of the story…
Rush has earned every bit of his bad-boy reputation. The three-story beach house, luxury car, and line of girls begging for time between his sheets are the envy of every guy in Rosemary Beach, and Rush handles it all with the laid-back cool of a rock star's son. All he needs are his best friend, Grant, and his sister, Nan.
Until Blaire Wynn drives into town in her beat-up pickup truck with a pistol under her seat. The Alabama farm girl instantly captures Rush's attention once he discovers that the angelic beauty is his new stepsister, but he vows to keep his distance. Even if she needs his help. Even if he craves her.
Because Rush knows why Blaire is all alone in the world, forced to ask for help from the father who abandoned her three years ago. And he knows if he gets too close it will destroy Nan, who has a secret connection to Blaire.
He has every reason in the world to stay away from her. Find out why he doesn't.